CAF-COMPO awarded a Special Mention for DAME Award 2017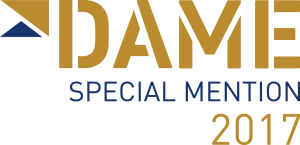 The CAF-COMPO screw-stud is awarded a Special Mention for the DAME Award 2017 for the category 'Deck equipment, sails and rigging'. The award honours and recognizes design and innovation in different categories of marine products from exhibitors of the METS tradeshow in Amsterdam, The Netherlands in November 2017.  SUREFAS and the team behind this invention is proud and honored for this great recognition and feel encouraged to continue improving textile fastener solutions for all.
Witnessing the DAME-jury comment: "A brilliant example of an improvement to a long-standing component, this composite screw stud self-taps into GRP, composite and wood and is offered in a variety of colours."
Download the full press release:  Press release - CAF-COMPO awarded a Special Mention for DAME 2017
More info on DAME and all the winners click here.