Visit us at the first Dutch Zeilmakerij vakbeurs 2018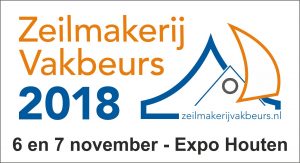 Finally we can show all our new stuff on the first 'Zeilmakers Vak Beurs' in Houten, The Netherlands. The first edition of this dedicated tradeshow for the sailmaker and signage industry is organized by the SZS trade-organization .
Further info is in Dutch:
Zeilmakerij vakbeurs 2018:
Op 6 en 7 november 2018 zal voor de eerste keer in Nederland een vakbeurs worden gehouden voor de zeilmakerijen, doek confectiebedrijven, de folie verwerkende industrie, en de Sign (spandoeken) branche.
Diverse producenten en leveranciers op het gebied van doek, fournituren, machines en toebehoren laten op de beurs zien wat ze in huis hebben.
De beurs is gratis voor professionals uit de industrie en toegang is op uitnodiging. Stuur een mail aan info@surefas.com om een uitnodiging te krijgen.
Meer info op www.zeilmakerijvakbeurs.nl